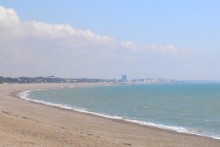 Pagham Beach has a long and varied history dating over 3500 years and we recommend that you visit the Pagham Parish Council's web site to read all about it ... Since the first world war the area has attracted many visitors ... some just for a day trip others staying and converting old railway carriages into holiday homes and in later years staying in caravans and hotels ....
For over 35 years the same family have been providing a great range of facilities to ensure that all visitors to Pagham Beach have an enjoyable and memorable stay. They take pride in all their attractions and always strive to provide value for money .....
The attractions include:
The Pagham Beach Cafe visit our home page for more information and sample menu.
The Family Entertainment Centre with many vintage amusement machines from a bygone era.
Shops with a huge selection of beach goods, gifts, toys and souvenirs.
A play area with trampolines etc.
A Ice Cream Kiosk with Lovely Soft Ice cream plus New Forest Ice Cream very tasty!
And much more .....
PLUS there is a large car park adjoining
So if you are enjoying a caravan holiday, staying at Butlin's in Bognor Regis or just looking for somewhere to spend a few hours or relax on our fine beach visit us soon ... we will look out for you and greet you with a smile.
DON'T FORGET TO TELL YOUR FRIENDS ABOUT US ....