Latest news from Baytree Winter Wonderland CHRISTMAS GROTTO
FaceBook
Great news we are now on FaceBook! Simply CLICK the link below to visit our NEW FaceBook pages for up to date News and Info .. Please don't forget to LIKE our page.
>>>>>>>>> WINTER WONDERLAND on FACEBOOK <<<<<<<<<<
HOW TO FIND US
This is our new close up map ... We are near McDonalds ... come and see us soon. Click on map to enlarge.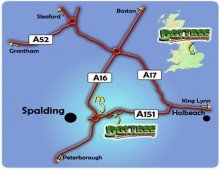 New for Christmas 2017
We have loads of NEW displays for 2017 so if you are a regular visitor you will still be amazed at this years fantastic winter wonderland !! ... don't forget to tell your friends about us, and please show them this website.
Wonderful Children's Clothes
Mayoral, the greatness of taking care of the small things.
With 75 years of history, Mayoral has positioned itself as a leader in the field of children's fashion in Europe. Its collections are aimed at children aged between 0 and 16 years, offering a complete look (clothing , accessories and footwear) and segmenting its offer by age to give each child what he needs.
The company dedicates a lot of effort to their collections , aiming to create our its own personality and style. The slogan " makes friends " has been and still is a fundamental part of the philosophy of Mayoral, where design and quality has always been its priority.
PLEASE CLICK ON OUR BANNER NOW