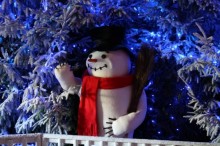 Baytree Winter Wonderland is the UK's number one Grotto, For over a decade it has been the one most consistently recognised as the best in the country. It is HUGE and now covers a staggering 26,000 square feet of undercover area.
Wind your way through hundreds of snow covered trees, climb onto Santa's magic sleigh ride travel into the heart of Winter Wonderland hop off the sleigh and slowly walk past the toy workshop under twinkling lights, See Santa's little helpers hard at work, See all Santa's friends .. there's Polar Bears, Huskies and Seals and a singing Reindeer.
Keep a sharp lookout there's many hidden secrets and shy animals and other friends of Santa amongst the trees and buildings.
Don't forget to visit our REAL reindeer enclosure where you can feed them a carrot or two .... They are so Cute.
Santa's Elves have over 50 different gifts for the children who visit him, each gift is suitable to age and gender and they also receive a REAL Christmas tree to take hope and plant. ###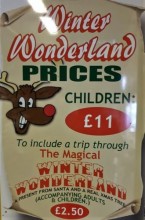 Childrens price includes a Visit to Winter Wonderland, a Ride on our Sleigh Ride, A Visit with Santa to Receive a Lovely Present and a REAL baby Christmas Tree. IT'S GREAT VALUE AND A WONDERFUL FESTIVE START TO THE CHRISTMAS SEASON. Accompanying Adults may enjoy the Winter Wonderland for a small entry fee
##### Please Note: Christmas Eve we close at 4pm PROMPT #####.
NB. Winter Wonderland provides access for both wheelchairs and pushchairs.
++++++++++++++++++++++++++++++++++++++++++++++++
WE HAVE A SPECIAL RATE FOR SCHOOL PARTIES OF TEN OR MORE SEEING SANTA ... PLEASE CALL 01406 372828
+++++++++++++++++++++++++++++++++++++++++++++
Click on our map to see where to find Winter Wonderland! When you visit please mention you saw the OURBUTTON web site