FIND US ON FACEBOOK!
Please click below to view our Facebook page for the latest NEWS and up to date INFORMATION and Opening Times etc
There has been a Fun Fair on the West Sands Caravan Park for over 40 years. Providing fun and entertainment for Holiday Makers to West Sussex together with Selsey, Chichester and Bognor Regis Residents. Many of our customers come for a day out, travelling from Sussex, Hampshire, London and Surrey.
We are open for business throughout March-December.
The Fun Fair has been has been extensively enlarged and the range of amusements has been increased tremendously over the years.
Approximately 20 years after Selsey's terrible Tornado which swept through Selsey and destroyed most of the facilities, the Fun Fair was re-built with the addition of a purpose built cafeteria.
Although the weather plays a part in the visitors to the Fun Fair and the opening hours, it is open as often as possible and certainly weekends during the summer season.
Many of our local Chichester, Bognor and Selsey customers say the range of rides and attractions rival the bigger fun parks on the south coast and we say, Why travel further ?
Give us a try we offer great value with our special stamp ONLY £15 for up to 5 hours enjoyment!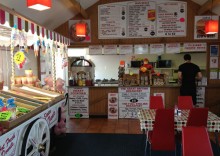 Covid and Health and Safety rules in place also some height restrictions apply ... Please see our notice boards on display.