East Beach Kiosk and Paddys Plaice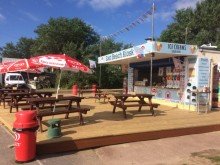 We the owners of the East Beach Kiosk and Paddy's Plaice Fish and Chip shop would like to welcome Old and New Visitors to Selsey
We are near East Beach Car Park, The Lake and the Fisherman's Huts If you are walking or driving you can find us with the What 3 Words app using the words > dips.trickles.allow
Selsey stands at the tip of the Manhood Peninsula and Selsey Bill is the southernmost tip of West Sussex.
It's a good base for Fishermen, home of the famous Selsey Lifeboat Station and has been providing holidaymakers with seaside fun and fresh air for as long as anyone can remember.
Plus a local delicacy Selsey Crab is well known as 100% certified delicious and can be purchased from the Fishermans huts near our kiosk.
At East Beach There is a large grassed area where you can enjoy the sun relaxing and maybe enjoy a little something from our kiosk. There are also Childrens play areas.
So If you are a Selsey resident, are here for a caravan holiday or just enjoying a day out or walk please visit us, we will always give you a warm welcome.
There is plenty of parking and the public conveniences are open daily more details are on our about page